How do I order a book?
You can do this in two ways:
- Without Registration
- With registration
Without registration
The easiest way is without registration.
1.Go to the product and click on "Add".
2.Once you have clicked on the "Add" button, the product will be added to the shopping cart.
You can continue your search or proceed with the ordering process.
4. In the shopping cart, you can change quantities, remove items from the order, add a discount code or proceed to checkout.
Shipping/invoice address: It is necessary to fill in address and email details on the page.
6.Checkout: You can pay for your order by iDEAL via 'internetkassa'. For Belgium via Bancontact
With registration
This registration is useful if you come back to the site often to order. Then you don't have to fill in your details again.
1. Go to the Home page and click on "New Customer" in the left column.
2. You will now reach the screen where you can register. (See example below)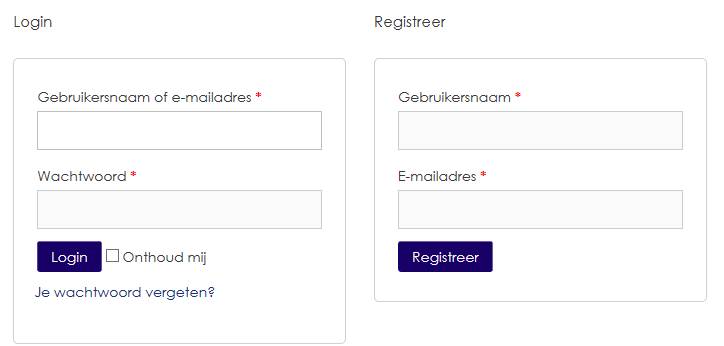 2. Enter your name or an alias in the right-hand column under "Username" and your e-mail under "E-mail address". Click on "Register".
3. You will receive your password by e-mail.
NB. This is a "strong" password with lower and upper case letters, numbers and symbols and about 12 characters.
4. Return to the site and enter your Username and Password.
TIP: Copy your password from your e-mail and paste it into the password field.
What is a dashboard and how do I get there?
In your dashboard, you can enter or change all your data, such as: name, address, billing or shipping address and your password. If you are logged in, click on "My account" and you will be taken to your dashboard.
How can I view all my orders or download my downloads?
If you have not registered, create an account using the e-mail address used to place your order.
After you have logged in, you will see "My account" in the left column under your user name. Click on it and you will be taken to your own dashboard to view all your orders or downloads
How do I find a book?
In the left-hand column you will see a search bar; if you enter a search term and press the 'Enter' button, the search will always be performed first. If a title cannot be found, we can help you by phone or via our Contact page .
Hoe kan ik betalen | How can I pay?
Je kunt de bestelling betalen met iDEAL of voor Belgie met Bancontact. Je kunt afrekenen in de internetbetaalomgeving, op basis van specifieke beveiligingsmethodes van je eigen bank.
You can pay for the order with iDEAL or for Belgium with Bancontact. You can pay in the internet payment environment, based on specific security methods of your own bank. For the other countries, payment is only possible via PayPal or Credit Card
Coupon code:
If you have a coupon code, you can enter this code at the end of your order.
Do I have to pay shipping costs?
The shipping costs are determined by weight. For an overview of the shipping costs go to shipping costs.
Can I have my order delivered to another address?
Yes, that is possible, you can indicate this when you click on the order in the shopping cart and proceed to the next page.
I have another question?
If you have more questions, you can always contact Please contact us. Based on your question, this page will be updated and we can always inform other visitors correctly.
Delivery time order can take longer?
In case of ordering English books or articles it may take 2 to 3 days longer than usual. The books or articles have to come from our warehouse. Hence the somewhat longer delivery time.